8 Channel Digital Algorithm for Hearing Amplification

We provide more clear sound by digitalizing the way human cochlea analyzes audio frequency and divides it precisely into 400 Hz intervals.

We provide more natural and accurate sound even in diverse environments by adequately compressing small and big sounds to meet your degree of hearing.

Enhanced Noise Reduction

We provide clear environment for conversation by reducing noise and amplifying speech sounds even when you are in noisy situations.

Automatic Sound Output Control

We protect your hearing by decreasing volume of sudden big sounds and preventing their distortion.

Noise Squelch

We provide you with listening comfort by even effectively reducing level of noise even in a quiet place.

ITE (In The Ear) Type with Minimal Size

The size and weight of the hearing instruments are very important in order to use them for a long time in the real life.Our IRIS10S is very comfortable to apply and wear as it weighs just 1.6g.

Control Button

The control button has two functions.

Short press (1 full second) : Changes your environment modes
Long press (3 full seconds) : Power on and off the device

Battery Life

Rechargeable battery: 15 hours (4 hours charge) 312 zinc air battery : 120 hours use

Certification

IRIS10S product has been certified by the US FDA and European CE Medical for product performance.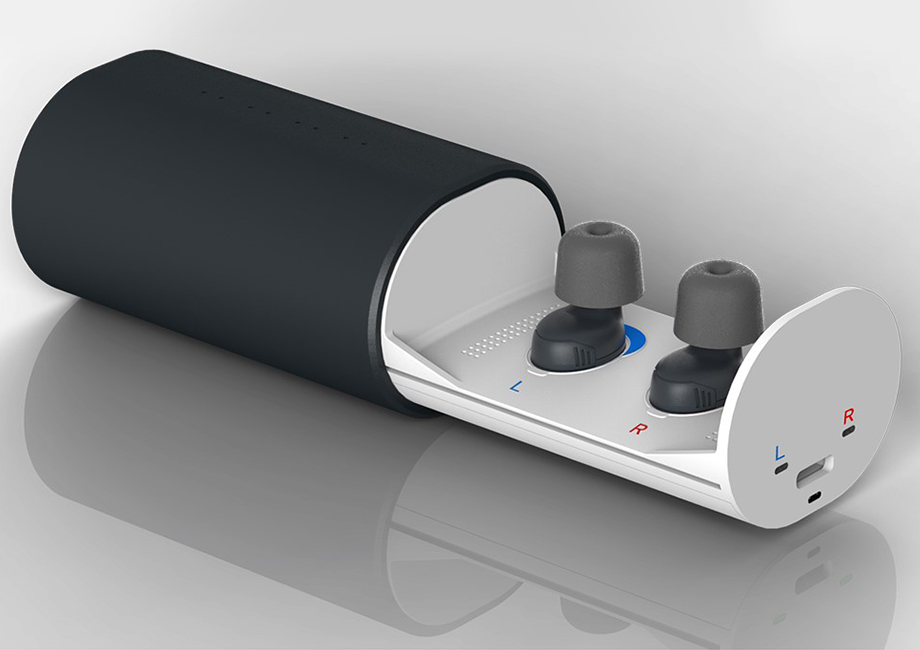 Multifunctional Charger Case
Battery Charger

It costs a lot to buy a battery every time. Using the charge function,
it can be used for 15 hours by charging for 4 hours.

Dehumidification.

Due to the characteristics of hearing aids and amplifiers, the generation of moisture due to prolonged use can cause the product to malfunction.
In addition, the earwax on the product after long use also deteriorates the performance of the product.
The dehumidification function works automatically during charging, making it easy to remove moisture and wax, helping you to use the product for a long time without trouble.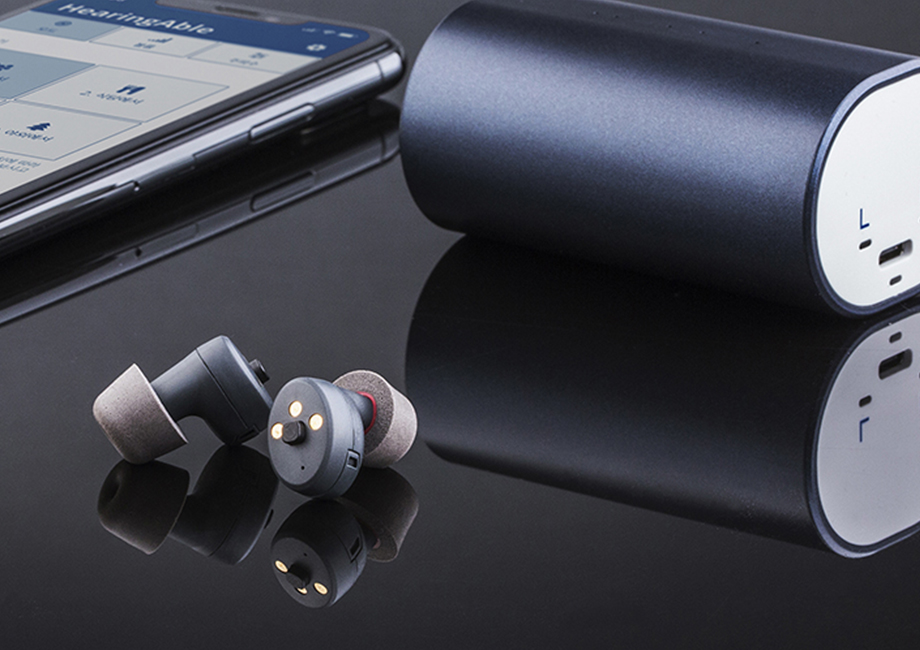 Diverse Functions Linked to Smartphones

We provide diverse functions by using the latest Bluetooth technology.
Self-hearing
test and
automatic
fitting
Various Function of Free Application
Environment modes

Adjust volume

Adjust frequencies

Hearing Test

Audiogram
Compatibility

You can download IRIS10 app for free in select Apple and Android devices.
Configuration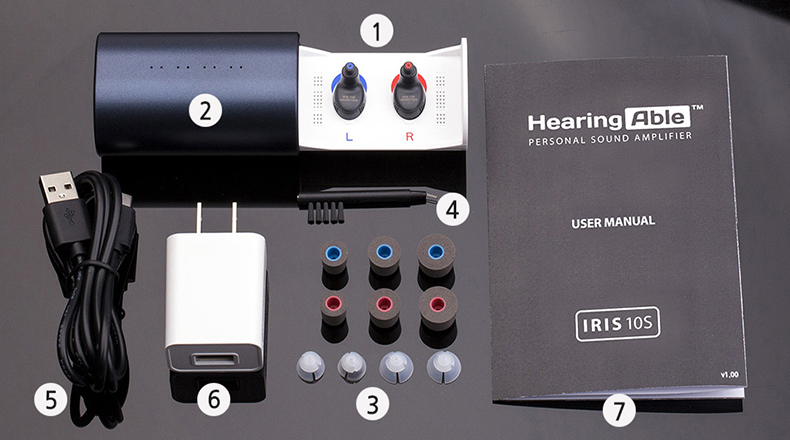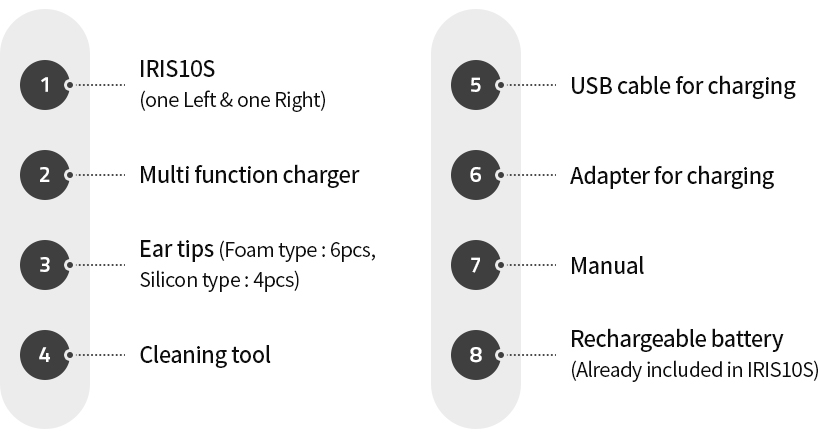 Product Illustration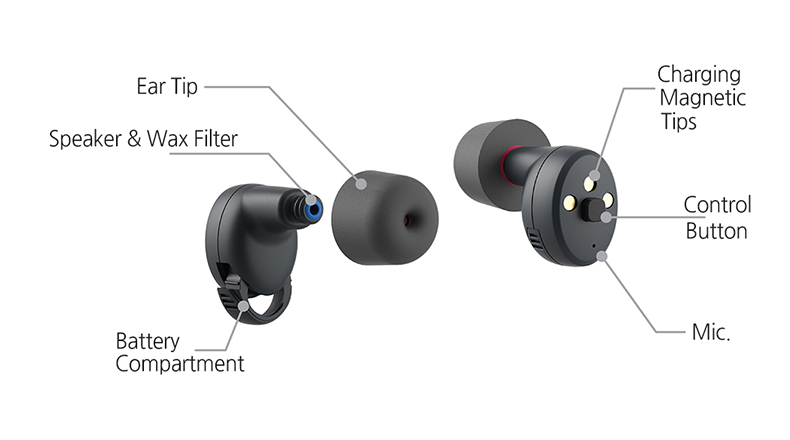 Product Specifications
Product Specifications
Number of Hearing Channels
8Ch.(WDRC)
Max Output / Average Gain
113dB(400Hz) / 33dB
Compatibility
Mild to Moderately severe hearing loss
Battery Type
312 zinc-air coin
Rechargeable nickel metal coin
Hours of Use (Rechargeable/Normal)
15 hours / 120 hours
Charging / Dehumidifying Hours
4 hours / 104F 3 hours
Weight / Color
0.06 oz / Dark Grey
Bluetooth Version
4.1 Low Energy
Self-Hearing Test & Auto Fitting
Available (App)
Change of Mode
Button / App
Volume Change
10 Stages (App)
Power Control
Button / App
Android Version
OS 5.0 or higher version
iPhone Version
OS 7.0 or higher version / iPhone 4S or later device
Instruction Guide

Please watch general instruction on how to use HearingAble IRIS10S in the following movie.

Frequently Asked Questions